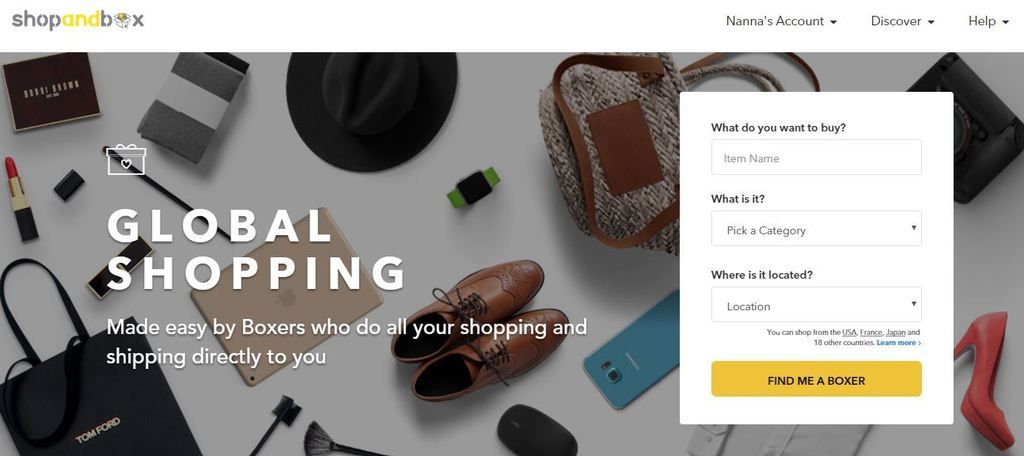 I don't know if you have read the first post I made about Shopandbox? Well if not, then head over to see it [
here
], because I won't be saying all the things I might have said in the post I made first.
But let's just for good sake, I'll just quickly tell you guys a little bit about
Shopandbox
! It is a firm that provides a service for us, who either can't get hold off some products in our countries or if, you can get hold off them in your states, or just don't like shopping for things. Then Shopandbox provides this service where there are a team of boxers in each of the 21 countries, they ship to and from.
These boxers shops the things you wish for. So, if you are like me - a girl or a boy who loves makeup and everything beauty, but you live in a silly little country who is so small, that the bigger brands don't either ship to your country, have any of their products in your country or shipping and customs are waaaay to expensive, then you'll probably love Shopandbox!
You can shop from Sephora, Ulta, Walgreens, CVS all those different kinds of beauty stores - also the bigger department stores like Nordstrom, Macy's and Fifth Avenue. But I will go through the process in the pictures just right under the next picture!
You'll have to make an account, which is easy - you can connect just through e-mail (what I did) or through Facebook or Instagram. The site had an update, and it's now even more easy to get around and get started with some shopping!
[
On the top of the picture with the blue square around
]
This is where you get around between your wishlist, orders and your profile. Right on the picture I've clicked on
My wishlist
- and then it shows me my wishlists - and the wishlists are split into countries - so it's easy to organise. In the picture under you can see all these different kind of items; Shoes, Sunglasses and makeup.
When you want to make an ode, just create it with giving it a name
[shown with the green square]
(Tip: here you can write a boxer you had before and liked like; requesting Anne)
And then added the things you want by marking them with the checkmark
[shown with the green rings]
If you forget something after you have made your order, don't worry - you can easily add more things to the order - you can add things until pay for invoice 2.
Tip: You don't have to make an order that only has one category - you can add makeup, electronics, fashion and accessories into one order!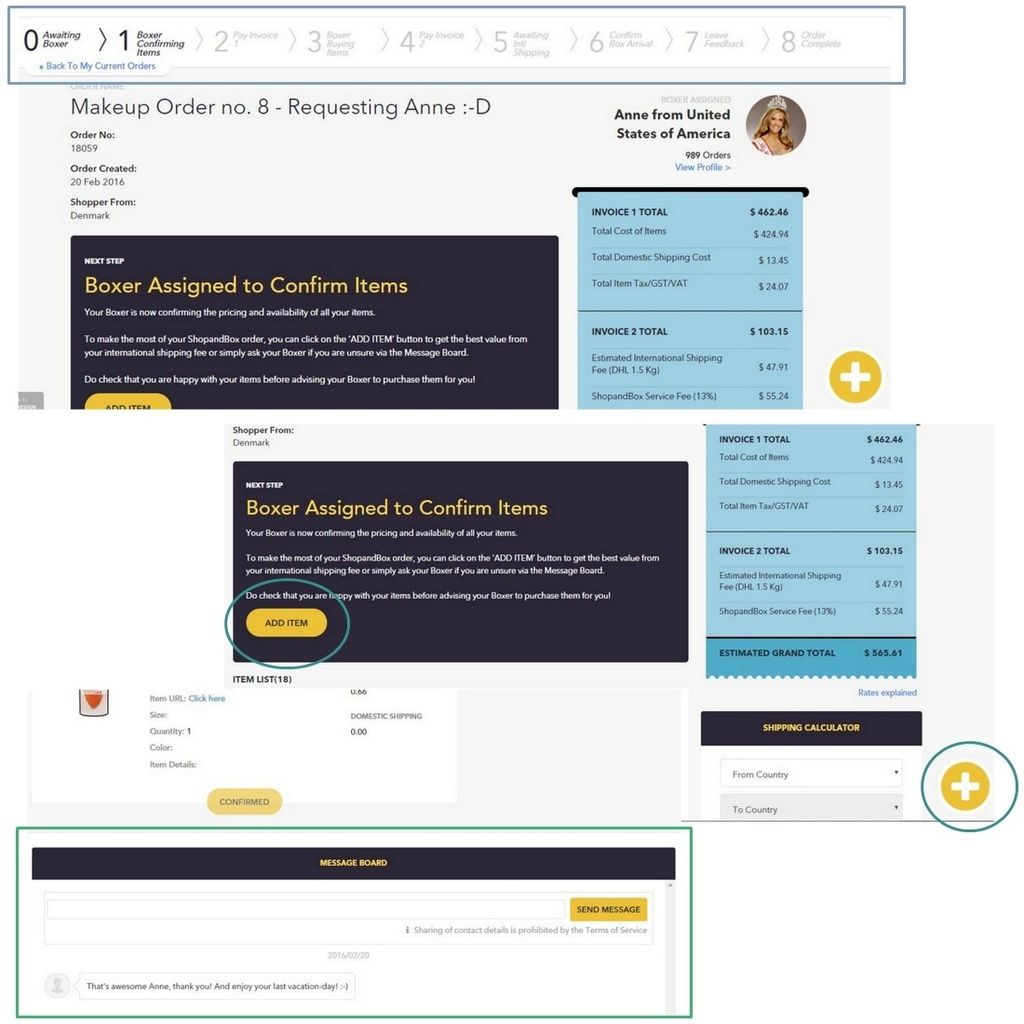 [The blue rectangle box]
This is very you have the overview over your order! You can see how long you are in the process until you are finished and have your new things with you. This is also very helpful for you, to see if the next step is yours or your boxers.
Invoice 1 and 2.
When you have added all the things you want to your order, it is time to pay for invoice 1. With the
invoice 1
payment, you pay for the products, so the boxer can order and pay for them. If there's any shipping from the online places you added your items from and taxes. This is what you pay for in invoice 1.
In invoice 2
you pay for the shipping of the box to you. And the fee to your boxer! Yes, you do pay for your boxer to shop your items. But don't fall off you chair just yet - it's not that much. It's between like 10-14%. The more you kind of add in your order the smaller the fee is going to be. But, I do not mind at all paying these fees because the boxer helps me, so I am fine with that.
You will get updates on your process as well - from both your boxer, but also from the Shopandbox team - but the updates from the Shopandbox team, are on when it's your turn to do something - like pay for either invoice 1 or 2, or leave some feedback for example.
Your boxer will update you on for example;
If somethings is sold out
If the items you want is on high demand, like: Kylie's Lip Kits or new MAC collections
If there's a problem with the product itself.
Like I said before, if you somehow didn't add all the items you wanted when you made the order, this is the time to do so. You can still make it before paying for invoice 2, but this is easier for you and the boxer, if it's before that point in the process.
I have marked the two places whee you can add extra things [shown with the blue rings] you can easily add things with those two buttons. When you want to add something this one shows up
[The picture to the right
]
And then you just fill in the boxes with the needed information. This also shows up when you are going to add things to your wishlists.
Tip: If you have more than one quantity of the product - like you have a makeup brush twice or three times - remember to set the Quantity for the amount of products. But it is a good idea to write in the "Item Details" because the boxer will read that note, and remember it better that there's more than just one item, even though you have added the right amount.
The last thing I want to say something about is; [Shown with the green rectangle box] is the message board. This is where you communicate with your boxer - you can answer directly here or through the e-mails you will get everytime you boxer writes to you.
So I hope you will consider
Shopandbox
, if you need something - that you can't get a hold of where you live or perhaps it is just cheaper for you to use the service rather than buying it in your own country. This service is great, and I am not working with them, writing this post.
I am just happy to pass on the good news for us madly shoppers! Any question, just ask me in the comment section!